What People are Saying:
Kind Souls -- I was suffering from a very sharp pain under my right rib for about a week, and determined that it must be gallstones. Your Cleanse, and its wonderful instructions, gave me complete relief from the pain in the 4 days promised and releasing of about a 1/4 cup of gallstones. Your placing your Cleanse online is a true gift to humanity.

Thank you, again.

DR in NYC
Other Products
Winemaking Pure and Simple
Anyone can make wine. It is not particularly complicated or time consuming. This is a natural process that, until recently, was part of everyday life.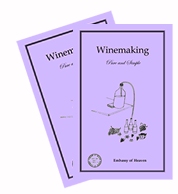 If you live beyond the sidewalks, and enjoy preserving fruits and vegetables, winemaking is one more way to store the harvest. And even if you don't have a garden, there is always fruit available that's just going to waste. Here's your opportunity to preserve this surplus.
This book is designed to take the fear and mystique out of winemaking.
Chapters Include:
Winemaking Basics and Supplies
Recipes for Fruit and Berry Wines
Creating Your Own Recipes
Homemade Wine Vinegar
Making Herbal Vinegars
Medicinal Wines
Wine in the New Testament
---
---