What People are Saying:
Greetings to all at the Embassy of Heaven fellowship in the name of Jesus Christ.

Two weeks ago I came down with a severe pain in my abdomen, not to mention my back - everywhere really! I called some friends and asked for prayer. They both agreed that it sounded like I had a gall bladder attack. Well, I got better the next day and kind of did a "Jonah". I "ran" from the fact that I needed to do the gall bladder cleanse. I said to myself, "I feel fine now. I'll do the cleanse if I ever get another attack."

Well the Lord found Jonah, and he found me, too. A week later I talked with a friend that had his gall bladder taken out. Then I began to really look forward to doing the cleanse, instead of avoiding it.

Anyway, I started the cleanse. Just as your booklet says, I had a fairly uncomfortable third night. But, oh man! The next day I must have passed at least 50 gallstones. I could not understand how my gall bladder even functioned with all the stones I had to pass. Praise the Lord for your booklet. I look forward to doing the cleanse again soon just to make sure I've gotten them all. Thanks and God bless.

CG - North Carolina
Other Products
Winemaking Pure and Simple
Anyone can make wine. It is not particularly complicated or time consuming. This is a natural process that, until recently, was part of everyday life.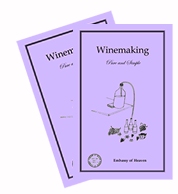 If you live beyond the sidewalks, and enjoy preserving fruits and vegetables, winemaking is one more way to store the harvest. And even if you don't have a garden, there is always fruit available that's just going to waste. Here's your opportunity to preserve this surplus.
This book is designed to take the fear and mystique out of winemaking.
Chapters Include:
Winemaking Basics and Supplies
Recipes for Fruit and Berry Wines
Creating Your Own Recipes
Homemade Wine Vinegar
Making Herbal Vinegars
Medicinal Wines
Wine in the New Testament
---
---