What People are Saying:
Last October I experienced the pain of passing a kidney stone. At the conclusion of the ordeal, the doctor stated the problem would probably recur. I received no other advice.

With the memory of the ordeal fresh in mind, I began a search of the internet for more information on the condition, and a way of preventing the problem that I was assured would return. I found your website and the recipe: "Kidney/Gallbladder Cleanse."

Thank you. I had five days off work; purchased the necessary ingredients and embarked on what has been the best and cheapest course of health therapy I have encountered.

S.L., United Kingdom
Naturally Simple Vegetarian Cookbook
---
Vegetarian Cookbook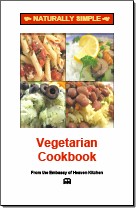 Make everyday meals using easy-to-find healthy ingredients. Entice the family to the table with home cooked meals that are both delicious and beneficial to your health.
Inside you'll find recipes from around the world that feature fresh ingredients and whole grains.
Classic easy-to-prepare dishes
Step-by-step instructions
Shopping lists
Makeover leftovers
Health benefits in common foods
164 pages
Make healthy vegetarian meals... so delicious you won't miss the meat.
Try some sample recipes from this cookbook
---
---
---