What People are Saying:
I've had gall stones for several years and had four attacks but I dreaded even thinking about surgery because I have Fibromyalgia and any stress or injury to the body brings on increased pain and fatigue. I finally said, "I want to do that cleanse." The apple juice was a pleasure to drink although by day three I was a little tired of it. I found that freezing it into apple sickles made it go down easier and was a nice change in texture. We found the salt cleansing to be easy by taking a breath between each drink.

What an amazing thing to see my stones in the toilet (on day four) without surgery!

We took pictures because I want to show my current doctor and I'll have another sonogram to see if they are all gone. Pretty amazing, huh? Even if they are not all passed, I'm sure this was most of it and I'll just do another cleanse.

Love, in Christ, Gene and Cheryl
Organic Whole Psyllium Husks

Organic Whole Blond Psyllium Husks from the Plantain Plant. Used in the Intestinal or Colon Cleanse as described in Cleansing or Surgery.
Organic Whole Psyllium Husks:
Excellent source of fiber
Makes fluffy stools
Lubricates the bowels
Gently scrubs intestinal walls
Counteracts diarrhea
Removes old fecal matter
Intestinal or Colon Cleanse
Grown without chemicals
Contains no additives
Intestinal Cleanse Restores Health
Save!

Three Month Supply of Organic Psyllium Husks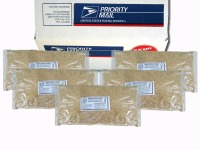 Five packages of Organic Whole Blond Psyllium husks - Enough for the three month Intestinal or Colon Cleanse!
5 - 12 oz bags OG Psyllium Husks

Includes

Priority Mailing