What People are Saying:
Greetings in the name of Jesus Christ, our King now. I have a friend that is HIV positive. She saw me mixing another batch of the Sanguinaria Mint Mouthwash and asked me if it was any good. I told her it was better than anything else I've used and was keeping me out of the dentist's chair.

She wondered if it would help clear up the thrush in her mouth. She explained that thrush is very common in people with the HIV virus. So I gave her a small jar of the mouthwash to try. After one week, the thrush is going away and her tongue is regaining its natural color. Praises to our King.

Caleb
Organic Whole Psyllium Husks

Organic Whole Blond Psyllium Husks from the Plantain Plant. Used in the Intestinal or Colon Cleanse as described in Cleansing or Surgery.
Organic Whole Psyllium Husks:
Excellent source of fiber
Makes fluffy stools
Lubricates the bowels
Gently scrubs intestinal walls
Counteracts diarrhea
Removes old fecal matter
Intestinal or Colon Cleanse
Grown without chemicals
Contains no additives
Intestinal Cleanse Restores Health
Save!

Three Month Supply of Organic Psyllium Husks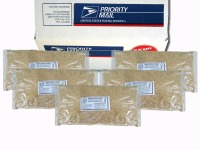 Five packages of Organic Whole Blond Psyllium husks - Enough for the three month Intestinal or Colon Cleanse!
5 - 12 oz bags OG Psyllium Husks

Includes

Priority Mailing