What People are Saying:
Kind Souls -- I was suffering from a very sharp pain under my right rib for about a week, and determined that it must be gallstones. Your Cleanse, and its wonderful instructions, gave me complete relief from the pain in the 4 days promised and releasing of about a 1/4 cup of gallstones. Your placing your Cleanse online is a true gift to humanity.

Thank you, again.

DR in NYC
Organic Whole Psyllium Husks

Organic Whole Blond Psyllium Husks from the Plantain Plant. Used in the Intestinal or Colon Cleanse as described in Cleansing or Surgery.
Organic Whole Psyllium Husks:
Excellent source of fiber
Makes fluffy stools
Lubricates the bowels
Gently scrubs intestinal walls
Counteracts diarrhea
Removes old fecal matter
Intestinal or Colon Cleanse
Grown without chemicals
Contains no additives
Intestinal Cleanse Restores Health
Save!

Three Month Supply of Organic Psyllium Husks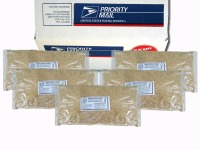 Five packages of Organic Whole Blond Psyllium husks - Enough for the three month Intestinal or Colon Cleanse!
5 - 12 oz bags OG Psyllium Husks

Includes

Priority Mailing