What People are Saying:
"Your cleansing diet book has given us a miracle. A heart specialist had diagnosed Gerald with clogged arteries. Gerald did the Lemonade Diet from the "Cleansing or Surgery" book for 10 days. Then he returned to the doctor. His clogged arteries were clear - no surgery, drugs, or other treatment was necessary. Praise the Lord."

D.B., Ohio
Organic Whole Psyllium Husks

Organic Whole Blond Psyllium Husks from the Plantain Plant. Used in the Intestinal or Colon Cleanse as described in Cleansing or Surgery.
Organic Whole Psyllium Husks:
Excellent source of fiber
Makes fluffy stools
Lubricates the bowels
Gently scrubs intestinal walls
Counteracts diarrhea
Removes old fecal matter
Intestinal or Colon Cleanse
Grown without chemicals
Contains no additives
Intestinal Cleanse Restores Health
Save!

Three Month Supply of Organic Psyllium Husks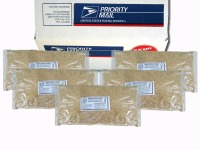 Five packages of Organic Whole Blond Psyllium husks - Enough for the three month Intestinal or Colon Cleanse!
5 - 12 oz bags OG Psyllium Husks

Includes

Priority Mailing