What People are Saying:
I want to thank you for the Cleansing or Surgery book. Receiving the book was no coincidence. It was just a short time afterwards that I was faced with a decision. I needed to go into a time of fasting and prayer.

Praise the Lord for the Lemonade Diet. That was the longest I had ever gone without food. The Lord and the Lemonade enabled me to go on about my daily tasks, with no problems or side effects. I am a plumber and my work is sometimes pretty physical. The fast went very well for both my spirit and my physical body.

G. H. Texas
Organic Whole Psyllium Husks

Organic Whole Blond Psyllium Husks from the Plantain Plant. Used in the Intestinal or Colon Cleanse as described in Cleansing or Surgery.
Organic Whole Psyllium Husks:
Excellent source of fiber
Makes fluffy stools
Lubricates the bowels
Gently scrubs intestinal walls
Counteracts diarrhea
Removes old fecal matter
Intestinal or Colon Cleanse
Grown without chemicals
Contains no additives
Intestinal Cleanse Restores Health
Save!

Three Month Supply of Organic Psyllium Husks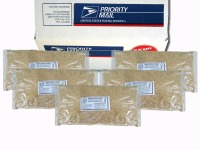 Five packages of Organic Whole Blond Psyllium husks - Enough for the three month Intestinal or Colon Cleanse!
5 - 12 oz bags OG Psyllium Husks

Includes

Priority Mailing