What People are Saying:
Three and a half weeks ago I had terrible pain that started Sunday night. I wondered what it might be - was it a heart attack? As I prayed, God revealed that gallstones were causing the problem. By Wednesday, I had jaundice. I looked in some of my nursing textbooks and read that gallstones can sometimes block the ducts, causing the liver to shut down. I started on the 4-day Kidney-Gallbladder Cleanse and by Friday morning the liver ducts opened again. On the morning of the fourth day, I passed 150 large gallstones and too many small ones to count. Best of all the pain finally subsided. Today I am a little tired but I'm pain free. I am grateful to God that He saved me from emergency surgery.

S. J.; Killeen, Texas
Organic Whole Psyllium Husks

Organic Whole Blond Psyllium Husks from the Plantain Plant. Used in the Intestinal or Colon Cleanse as described in Cleansing or Surgery.
Organic Whole Psyllium Husks:
Excellent source of fiber
Makes fluffy stools
Lubricates the bowels
Gently scrubs intestinal walls
Counteracts diarrhea
Removes old fecal matter
Intestinal or Colon Cleanse
Grown without chemicals
Contains no additives
Intestinal Cleanse Restores Health
Save!

Three Month Supply of Organic Psyllium Husks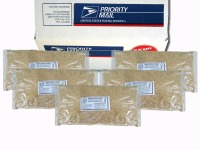 Five packages of Organic Whole Blond Psyllium husks - Enough for the three month Intestinal or Colon Cleanse!
5 - 12 oz bags OG Psyllium Husks

Includes

Priority Mailing