What People are Saying:
I've had gall stones for several years and had four attacks but I dreaded even thinking about surgery because I have Fibromyalgia and any stress or injury to the body brings on increased pain and fatigue. I finally said, "I want to do that cleanse." The apple juice was a pleasure to drink although by day three I was a little tired of it. I found that freezing it into apple sickles made it go down easier and was a nice change in texture. We found the salt cleansing to be easy by taking a breath between each drink.

What an amazing thing to see my stones in the toilet (on day four) without surgery!

We took pictures because I want to show my current doctor and I'll have another sonogram to see if they are all gone. Pretty amazing, huh? Even if they are not all passed, I'm sure this was most of it and I'll just do another cleanse.

Love, in Christ, Gene and Cheryl
Naturally Simple Vegetarian Cookbook
---
Vegetarian Cookbook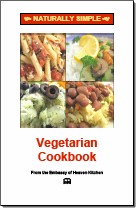 Make everyday meals using easy-to-find healthy ingredients. Entice the family to the table with home cooked meals that are both delicious and beneficial to your health.
Inside you'll find recipes from around the world that feature fresh ingredients and whole grains.
Classic easy-to-prepare dishes
Step-by-step instructions
Shopping lists
Makeover leftovers
Health benefits in common foods
164 pages
Make healthy vegetarian meals... so delicious you won't miss the meat.
Try some sample recipes from this cookbook