What People are Saying:
Three and a half weeks ago I had terrible pain that started Sunday night. I wondered what it might be - was it a heart attack? As I prayed, God revealed that gallstones were causing the problem. By Wednesday, I had jaundice. I looked in some of my nursing textbooks and read that gallstones can sometimes block the ducts, causing the liver to shut down. I started on the 4-day Kidney-Gallbladder Cleanse and by Friday morning the liver ducts opened again. On the morning of the fourth day, I passed 150 large gallstones and too many small ones to count. Best of all the pain finally subsided. Today I am a little tired but I'm pain free. I am grateful to God that He saved me from emergency surgery.

S. J.; Killeen, Texas
Naturally Simple Vegetarian Cookbook
---
Vegetarian Cookbook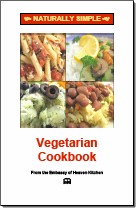 Make everyday meals using easy-to-find healthy ingredients. Entice the family to the table with home cooked meals that are both delicious and beneficial to your health.
Inside you'll find recipes from around the world that feature fresh ingredients and whole grains.
Classic easy-to-prepare dishes
Step-by-step instructions
Shopping lists
Makeover leftovers
Health benefits in common foods
164 pages
Make healthy vegetarian meals... so delicious you won't miss the meat.
Try some sample recipes from this cookbook
---
---
---