What People are Saying:
My wife and I recently completed your 4-day Gallbladder Cleanse from the Cleansing or Surgery book. We each passed 20 to 30 gallstones. My wife was scheduled for surgery. What a happy phone call we made to the hospital to say that we would like to cancel the surgery because we passed the gallstones.

M.K., Wisconsin
Sanguinaria Mint Mouthwash Herbs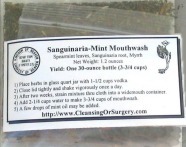 Our family has proved its effectiveness in preventing plaque buildup. There are no harmful additives. The mint freshens breath. We add myrrh because it is wonderfully healing for mouth sores.
Just add Vodka and water.
Makes one 30-oz bottle.
---
---
---