What People are Saying:
Last October I experienced the pain of passing a kidney stone. At the conclusion of the ordeal, the doctor stated the problem would probably recur. I received no other advice.

With the memory of the ordeal fresh in mind, I began a search of the internet for more information on the condition, and a way of preventing the problem that I was assured would return. I found your website and the recipe: "Kidney/Gallbladder Cleanse."

Thank you. I had five days off work; purchased the necessary ingredients and embarked on what has been the best and cheapest course of health therapy I have encountered.

S.L., United Kingdom
Sanguinaria Mint Mouthwash Herbs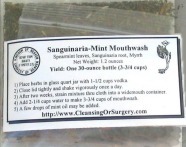 Our family has proved its effectiveness in preventing plaque buildup. There are no harmful additives. The mint freshens breath. We add myrrh because it is wonderfully healing for mouth sores.
Just add Vodka and water.
Makes one 30-oz bottle.
---
---
---