What People are Saying:
I want to thank you for the Cleansing or Surgery book. Receiving the book was no coincidence. It was just a short time afterwards that I was faced with a decision. I needed to go into a time of fasting and prayer.

Praise the Lord for the Lemonade Diet. That was the longest I had ever gone without food. The Lord and the Lemonade enabled me to go on about my daily tasks, with no problems or side effects. I am a plumber and my work is sometimes pretty physical. The fast went very well for both my spirit and my physical body.

G. H. Texas
Sanguinaria Mint Mouthwash Herbs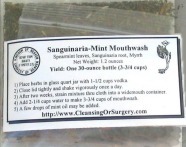 Our family has proved its effectiveness in preventing plaque buildup. There are no harmful additives. The mint freshens breath. We add myrrh because it is wonderfully healing for mouth sores.
Just add Vodka and water.
Makes one 30-oz bottle.