What People are Saying:
Three and a half weeks ago I had terrible pain that started Sunday night. I wondered what it might be - was it a heart attack? As I prayed, God revealed that gallstones were causing the problem. By Wednesday, I had jaundice. I looked in some of my nursing textbooks and read that gallstones can sometimes block the ducts, causing the liver to shut down. I started on the 4-day Kidney-Gallbladder Cleanse and by Friday morning the liver ducts opened again. On the morning of the fourth day, I passed 150 large gallstones and too many small ones to count. Best of all the pain finally subsided. Today I am a little tired but I'm pain free. I am grateful to God that He saved me from emergency surgery.

S. J.; Killeen, Texas
Heavenly Humor Book and Tape
Christian Jokes and Riddles book and tape set.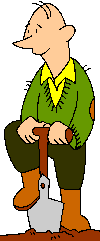 Heavenly Humor Booklet
30 Pages of Jokes, Riddles and Laughter
Great for kids
Illustrated
Heavenly Humor Audio Tape
60 Minutes of Humor
Hosted by Pastor Paul Revere
Garden of Gold (Sample from Heavenly Humor)
A minister was thrown in jail for preaching without a license. One day, he received a letter from his wife: "I have decided to plant some lettuce in the back garden," she wrote. "When is the best time to plant?"
The minister, knowing that the prison guards read all the mail, replied: "My dear wife, whatever you do, do not touch the back garden. That is where I buried all the gold."
A week or so later, he received another letter from his wife. "You wouldn't believe what happened! Last night some men came to the house with shovels and dug up the entire back garden."
The preacher wrote another letter back. "My dear wife, now is the best time to plant the lettuce."
Autos in the Bible
Did you know Jesus had an automobile?
He drove them from the temple in a Fury!
Did you know that they had motorbikes in the Bible?
Joshua's Triumph was heard throughout the land.
Did you know that the apostles drove a Honda?
In Acts they were all in one Accord.