What People are Saying:
I've had gall stones for several years and had four attacks but I dreaded even thinking about surgery because I have Fibromyalgia and any stress or injury to the body brings on increased pain and fatigue. I finally said, "I want to do that cleanse." The apple juice was a pleasure to drink although by day three I was a little tired of it. I found that freezing it into apple sickles made it go down easier and was a nice change in texture. We found the salt cleansing to be easy by taking a breath between each drink.

What an amazing thing to see my stones in the toilet (on day four) without surgery!

We took pictures because I want to show my current doctor and I'll have another sonogram to see if they are all gone. Pretty amazing, huh? Even if they are not all passed, I'm sure this was most of it and I'll just do another cleanse.

Love, in Christ, Gene and Cheryl
Heavenly Humor Book and Tape
Christian Jokes and Riddles book and tape set.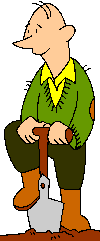 Heavenly Humor Booklet
30 Pages of Jokes, Riddles and Laughter
Great for kids
Illustrated
Heavenly Humor Audio Tape
60 Minutes of Humor
Hosted by Pastor Paul Revere
Garden of Gold (Sample from Heavenly Humor)
A minister was thrown in jail for preaching without a license. One day, he received a letter from his wife: "I have decided to plant some lettuce in the back garden," she wrote. "When is the best time to plant?"
The minister, knowing that the prison guards read all the mail, replied: "My dear wife, whatever you do, do not touch the back garden. That is where I buried all the gold."
A week or so later, he received another letter from his wife. "You wouldn't believe what happened! Last night some men came to the house with shovels and dug up the entire back garden."
The preacher wrote another letter back. "My dear wife, now is the best time to plant the lettuce."
Autos in the Bible
Did you know Jesus had an automobile?
He drove them from the temple in a Fury!
Did you know that they had motorbikes in the Bible?
Joshua's Triumph was heard throughout the land.
Did you know that the apostles drove a Honda?
In Acts they were all in one Accord.